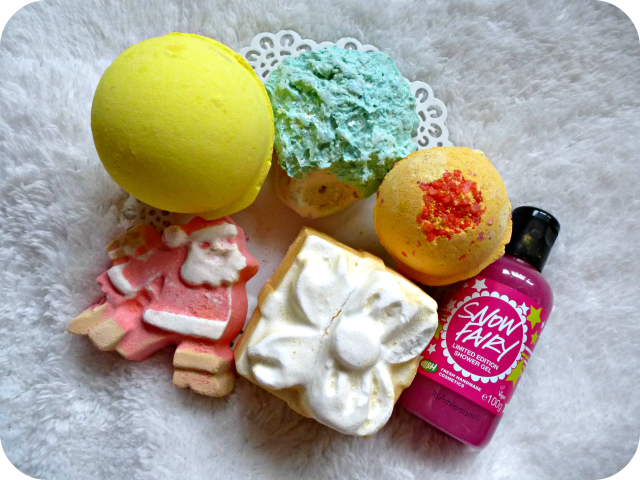 I am forever finding myself walking past Lush but never really venturing in as I have enough bath bombs from previous trips to keep me going for a while. However there is just some about their sweet, intoxicating scent that just draws you in and before you know it, you've already handed over your card and end up walking out with a bag filled with deliciously scented bath bombs that you may or may not have needed.
I actually ventured into my local store the day after boxing day and they still had lots of stuff left so I couldn't resist picking up a few of their christmas items especially when it was all half price. I managed to get Cinders, Dashing Santa and Golden Wonder which are all bath bombs as well as the Christmas Hedgehog bubble bar which starts to melt the minute you touch it. I also picked up the Little Snow Fairy Giftset which came with a 100g Snow Fairy Showergel as well as a mini pink FUN which is not pictured. Overall, I'm extremely pleased with everything that I got even if I didn't necessarily need it all.
What did you pick up from Lush's boxing day sale?