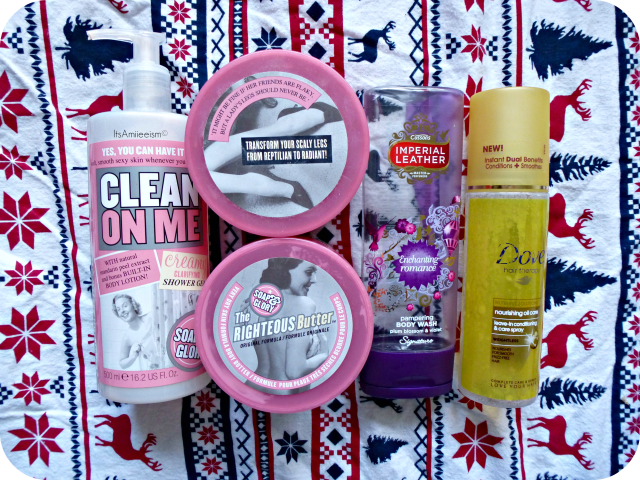 I've used up a bottle of

Soap & Glory Clean On Me Shower Gel

which I use mainly as a shaving lotion as it gets a close shave whilst leaving my legs moisturised at the same time. Will be forever repurchased! I've finished up a pot of

Soap & Glory Flake Away Body Scrub

which didn't feel quite as exfoliating as my previous pots have been but it did a an okay job none the less. I've used up a pot of

Soap & Glory The Righteous Butter

which I absolutely love as it leaves my skin so soft and moisturised! Will be repurchased ASAP! I've used up the

Imperial Leather Shower Gel in Enchanting Romance

which I absolutely loved and will be repurchasing soon. I've finally used up the

Dove Nourishing Oil Care Leave In Conditioner

which leaves my hair soft, tangle-free and smelling so good which I've already repurchased.
I've finished up another

Liz Earle Cleanse & Polish

which I felt like I went through rather quickly but none the less, it is a brilliant cleanser which I've already repurchased. I've used up a tube of

La Roche Posay Effaclar Duo+

which I use every morning without fail as a serum as it helps with spots and I've literally got a good years supply worth of backups so I won't be running out any time soon! I've used up another

Hydraluron

which acts like a magnet with your moisturiser and just like with the previous product, I've got about a years supply of as I love it that much and don't particularly want to run out of. I've finished up

The Body Shop Tea Tree Pore Minimiser

which I mix in with the next product. This acts as both a primer and a spot treatment so it's good value for money. I've used up the

L'Oreal Lumi Magique Pure Light Primer

which helps give a radiant glow which shines through my foundation. This is quite literally holy grail level as I adore it that much!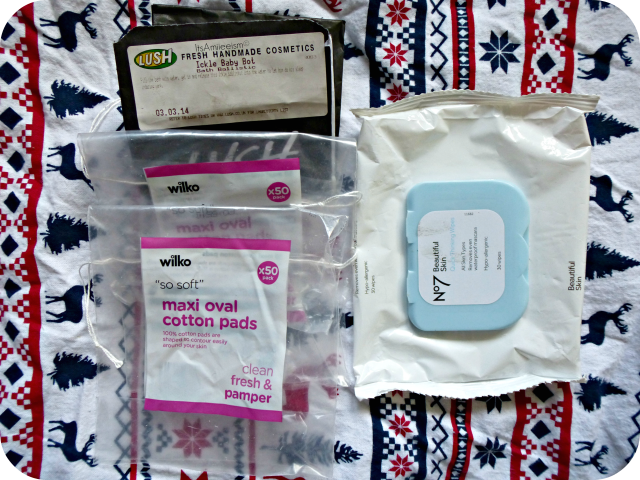 I've used a

Lush Ickle Baby Bot Bath Bomb

which I needed desperately one night after a long, hard day at work and it certainly did the trick. I've used up two packs of the

Wilko Maxi Oval Cotton Pads

which feature in every empties post as they are the only cotton wool pads I use. Lastly, I've finished up a pack of the

No7 Quick Thinking Wipes

which I use to wipe foundation off my hands, clean surfaces etc.