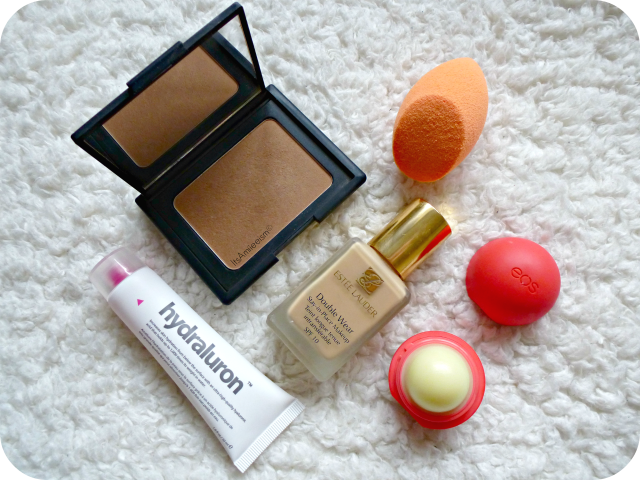 Throughout November, I've found myself using an oldie but goodie in the form of

NARS Laguna Bronzer

which I still have mixed feelings about which is partially down to the fact that I can only wear it for a few days straight before it breaks me out. It's infamous across the blogging world as the perfect bronzer to contour with and I do agree with that although sometimes it can come aross as looking a little patchy and muddy especially when not having a good skin day. Regardless of what it does to my skin, I love how it looks on the skin and I will continue to use it for a few days a week at a time atleast.
As I've been running about all over the place at work, I've needed a base that will last so I've been using the

Estee Lauder Double Wear Foundation

every day almost. I use the shade Bone which matches me perfectly and when mixed in with

Bourjois Radiance Reveal Healthy Mix Foundation

and

Revlon Photoready Skinlights Face Illuminator in Pink Light

, it creates the perfect full coverage dewy base without looking cakey or overdone. A little definitely goes a long way and despite having just over half a bottle left, I may or may not have treated myself to a new bottle as an early christmas present. In order to apply my foundation, I've been looking no further than the

Real Techniques Miracle Complexion Sponge

which makes applying foundation a breeeze, as you simply bounce it on the skin to blend and buff it in. I personally have three on the go at the moment as I use one for two days straight before moving onto a clean one with a futher three in backup to be used in six months time.
As double wear is quite a full coverage foundation, my skin has been looking a little dry especially when teamed up with central heating at home, the cold winter air outside and the constant aircon at work which means that I can never win. In order to combat the dryness and to keep my skin in tip top shape, I've been using

Hydraluron

constantly which I'm currently on my fifth tube of as I cannot get enough of the stuff! It acts like a magnet with your moisturiser and helps draw it deeper down in your skin to keep it hydrated and when used twice a day, your skin will appear plumper in no time. As well as my skin looking a little dry, my lips have been looking and feeling worse for wear so I've been applying an

eos lipbalm

multiple times a day which has been helping to keep my lips moisturiser. I currently have five on the go, all in different locations, as I seriously cannot get enough of them and I made sure that I stocked up on lots of different scents whilst out in America.