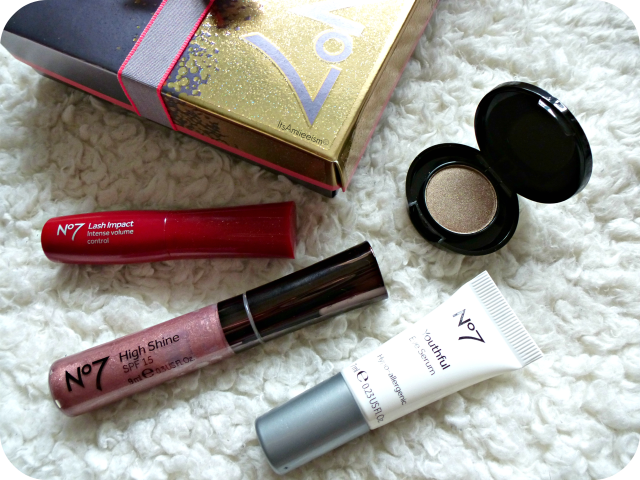 One thing that I love the most about drugstore makeup is when they bring out their gift with purchases around the festive season. Whilst they do make you spend money on products you don't necessarily need, the gift itself is worth it especially when it contains lots of full/sample size products that you could easily give away as a gift. Just like always, I couldn't resist getting the No7 GWP and came away with their new mascara and a gold eyeshadow crayon purely to get the free gift.
Included in their festive designed gift is a sample size of one of their better launches this year; the No7 Lash Impact Mascara. It adds intense volume for dramatic lashes - one coat gives you great volume whereas two coats give an amplified false lash effect without the clumps. Also included is a full size High Shine Lipgloss in Glaze - a glitter packed brown toned purple which would suit somebody a lot older than myself in my eyes. As always, there is an eyeshadow included which this time around is the bottom shade from the Stay Perfect Eyeshadow Trio in Cappuccino. This shade is a stunning gold amber copper shade which is perfect for any festive eye look. Lastly, they've included a little sample of their Youthful Eye Serum which helps to reduce the appearance of dark circles, wrinkles and puffiness within four weeks. This is actually half the size of their full size version which makes it even more value for money especially if you already use it.
If you're after one of these gift with purchases, you have to make sure you buy any two cosmetics in order to receive it for free whilst stocks last. If I were you, I would hurry as I'm sure these will fly out!